Server
The SP5ELA /SP5PBE HP-server. HP Proliant N40L Microserver Project.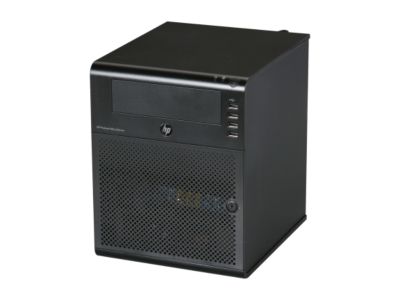 PHOTOS OF HP N40L server - password: public

Those who know what computers are, they know what this toy is for. This server is a compromise of computing power / resources and power economics. It has a hardware RAID and bay for 4 3.5 "SATA drives. RAID provides data storage security. The project assumes an analysis of the use of MikroServer as a workstation, file server (file backup), router, NAS, etc. Work on starting next elements is underway on OPENBSD system.

The cost of initiating the project of the new HP Proliant MicroServer G7 N40Lw server with RAID1 version is about $500. The project was financed with the own funds of club members. IT work was done by the members of the club: Zbyszek SP5DXM, Zygi SP5ELA, Jacek SQ5BPF. The project envisages maintaining the server installation for a period of 5 years. The total cost of the project is about $2000 PLN.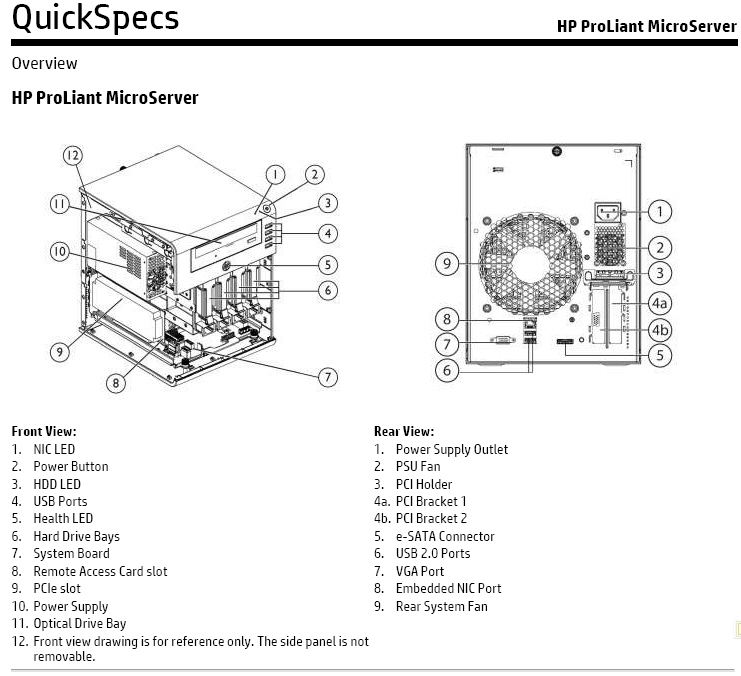 ---
SPECIFICATION
Taken from HP's N40L Spec Sheet. CPU Details enriched from Wikipedia AMD Turion, CPU Worldand AMD.

CPU AMD Turion II Neo N40L (1.5 Ghz) K625
Champlain (45nm), L2 Cache: 2 × 1 MB; FPU Width: 128-bit
Bus speed 200 MHz, HT Clock: 1600 MHz, Multiplier: 7.5x
TDP: 15 W; Socket ASB2; Official CPU Release: May 12, 2010
Chipset AMD RS785E/SB820M
RAM PC3-10600E Unbuffered DDR3 ECC @ 800MHz

Documented max: 2x4GB; Actual tested: 2x8GB non-ECC
1x2GB ECC included (N40L)
Graphics Onboard AMD HD4200 VGA: 128MB, 1920x1200 @ 60hz
PCIe 2.0 16x @16x port for dedicated graphics
Storage SATA Gen2: 4x internal bay, 1x internal/ODD, 1x eSATA rear
1.5 Gbps (stock); max 3.0Gbps (modified BIOS)
SATA Hardware RAID modes: 0, 1, JBOD, 10.
4x 3.5" internal non-hot-plug drive enclosure bays
1x 5.25" internal ODD quick release bay
(SATA ESP hot-plugging can be enabled with modified BIOS)
NIC Onboard NC107i PCI Express Gigabit 10/100/1000
Peripheral Ports 1x PCIe 2.0 16x @16x
1x PCIe 2.0 1x (+ 1x PCIe 4x for Remote Access Card)
Low profile cards only
USB 2.0: 7 total (2 rear, 4 front, 1 internal)
Sound Onboard HD Audio, no sound output
Requires HDMI audio capable graphics card
Power 150W (non-redundant)
---